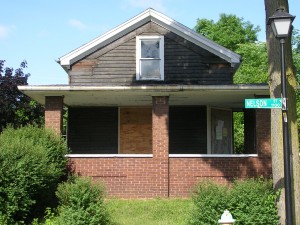 1134 Nelson Street (in progress)
West Central Neighborhood Association
Located at the end of an historic brick street, this charming, gable-front home overlooking Moody Park was rescued from the brink of demolition by the West Central Neighborhood Association (WCNA). Through the assistance of the Indiana Association for Community Economic Development (IACED) and the City of Fort Wayne, the WCNA is financing the renovation of this home using a combination of federal funds and a loan from Tower Bank. It is for sale to a low-to-moderate income buyer who will be an owner-occupant.
Having suffered years of neglect, much work has gone into this home to return it to a livable condition once again. The overall project has included the removal of asphalt shingle siding and restoration of the wooden clapboards below, addition of two dormers to increase headroom in the second story, first floor laundry facilities, new kitchen and half-bath, and the creation of a modern interior layout to include a full bath on the second floor. The house will feature the installation of new windows, and new mechanical systems including heating and air-conditioning, plumbing, and electrical. The large lot allows for plenty of off-street parking space and room for a garage.
Built circa 1870, an early resident was Ohio native William Brandenburg who lived here in 1880 with his wife Mary and their two children. William was a confectioner with a shop on the west side of Broadway just north of Wilt Street.
–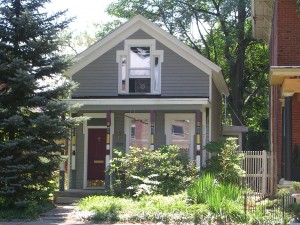 1029 West Jefferson Boulevard
Terry Ratliff and Mark Hannon
This gable-front cottage, currently utilized as part residence/part art studio, was built circa 1870 for Thomas Dyer and his family. It features a wide frieze board along the roofline, and a centrally-placed, three-part window in the front gable. Notice the wooden hood moldings over the first floor windows on the front façade and the transom over the main entrance. Colorfully painted, turned wooden posts support the front porch. A previous owner removed several, deteriorated rear additions to the main structure.
Thomas Dyer, born in Massachusetts in 1833, began working in the railroad industry in 1865 when he became employed by the Wabash Railroad as an engineer. He subsequently worked as an engineer for the Pennsylvania Railroad. Married to Sarah, they had at least four children. Thomas died in 1913 at the age of seventy-nine.
–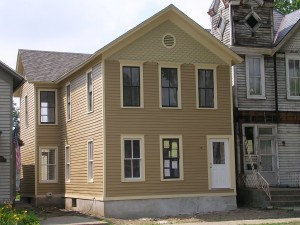 1011 West Jefferson Boulevard
Bernie Gump
Having recently undergone an extensive renovation, this gable-front house joins many others on this block enjoying a revival. Built circa 1855 as a 1 ½- story cottage, it received a roof lift circa 1875 when the upper half-story was created by jacking up the roof and infilling the upper wall. Other additions were added to the house over the years as well. Inappropriate alterations that had occurred to the house included a modification of the front façade to incorporate multiple entrance doors, and a conversion to several apartment spaces. It had also suffered from severe neglect resulting in large holes in the roof and structural decay.
Now back to being a single-family home, the house features restored wood clapboard siding; imbricated shingles on the front gable; windows restored to their original size, style, and configuration; the removal of the added entrances; and the addition of a bracketed hood over the main entrance door. It has also been structurally reinforced. Inside, the space has been completely reconfigured and remodeled for contemporary needs. The new plan orients major living areas to the new rear courtyard garden, with wood deck and a walk leading to a new two car garage. The rear kitchen/family area, overlooked by a loft, has a vaulted ceiling.
Owner Bernie Gump has also acquired the house to the west and plans to renovate
it to a similar standard through 2008.
–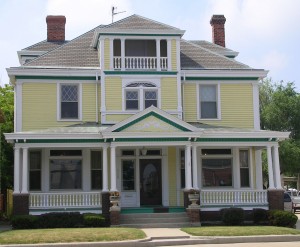 529 West Jefferson Boulevard
Tandra S. Johnson, LLC Law Office
Tandra Johnson, owner
Built circa 1910, this three-story, Colonial Revival-style home has a hipped roof with hipped roof gables, sided with slate shingles, on the front and sides. The front gable incorporates a semi-enclosed balcony supported by four square columns and a balustrade of turned balusters. A dentil molding detail runs along the front porch and second story cornices and the gables. Additional classical elements define the full-width front porch such as groups of round, fluted columns, turned balusters, and pediment with dentil molding and floral detail. Another porch feature is the two, large bay windows with transoms. Two, centrally-placed windows on the main façade are accented with a fanlight.
This house was originally built for Fort Wayne machine manufacturer and inventor Emil Deister and remained in his family until 1964. Born in Germany in 1872, Emil started the Deister Machine Company, a family-owned business that designed and customized equipment and machinery for the aggregate industry, in 1906. He was its president and general manager from 1912 to 1961. The company began and continues operations today at 1933 E. Wayne Street.
Owner Tandra Johnson purchased this home in the spring of 2006, and worked with contractor Tim Mackin of A New Look Construction Co. to transform it back to its early beauty. Over the years, the building had been carved into three apartments with paneled over walls and dropped ceilings. During construction, a back staircase and alcove window were uncovered. To maintain the period look, push-button light switches were installed, and original, sunflower-shaped brass lighting fixtures were restored. Other features of the home include two brick fireplaces; a lovely, parlor-like waiting room decorated with period-appropriate antiques; intricate, coffered downstairs ceilings with natural-finish woodwork; and period-appropriate ornate crystal chandeliers and furniture throughout. An antique glass-and-wood china cupboard in the foyer displays Tandra's childhood doll-size, china tea sets.
(Historical information provided by Tandra Johnson)
–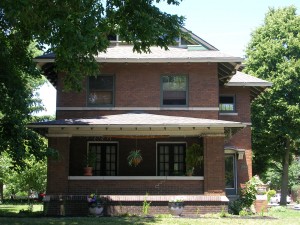 1004 West Washington Boulevard
Casi Bromelmeier and Mike Walsh
Joseph and Adelaide Pierre were the first owners of this large, brick house built circa 1912. The architectural details of the house reflect the influence of both the Prairie and Craftsman styles popular at the time. The Craftsman features may be seen in the wide eaves with exposed rafters. The Prairie style is exhibited by the emphasis on the horizontal axis highlighted by the stone banding under the second floor windows and running the width of the house, and the very wide and deep front porch. The tall, stained glass windows on the east side also reflect an influence of the Prairie style. Additional architectural features include dormers in the east and west hipped roof portion of the structure, while the main façade features a unique, glassed-in gable. The inviting front porch, entered from inside via double French doors, is supported by substantial brick columns topped with stone caps. A sloped, brick water table further enhances the porch details. Off to the side and set back from the main porch, the subtle front entrance is topped with a decorative wooden crown.
Joseph and Adelaide (Deinhart) Pierre, both Indiana natives, were married in Tippecanoe County, Indiana, in 1887. While living at 1004 W. Washington Blvd, Joseph operated the Pierre Dry Goods Co. at 1214-1218 Broadway (since demolished). He died in December of 1942 at age 80. The Pierre family continued to own the property until 1970.
Mike and Casi have done much work on their home over the last several years including remodeling the kitchen in 1998 and the upstairs bathroom in 2002. In 2004, they added the garage that was designed to complement the architecture of the house. For this, Mike and Casi recently received a commendation from ARCH, Allen County's local historic preservation organization.
–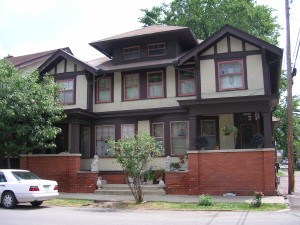 915 Union Street
Gary Bayman and Todd Ellis
This townhouse occupies the southern half of a Craftsman/Tudor Revival duplex built circa 1915. The building has a hipped roof with a large, central dormer flanked by projecting front gables. The knee braces under the eaves and twin porches supported by square posts are Craftsman in style. The stucco exterior walls, with a half-timbering effect on the second-story gables, reflect the influence of the Tudor Revival style. The matching, three-sided bay windows near the front entrance of each duplex adds additional interest to the façade. The adjacent Craftsman style duplex to the north was built as a companion to this property.
Gary, a returning resident to West Central, and Todd moved into their home last fall. They were particularly attracted to the duplex so they could have their business partners live next door. Inside, you'll find natural oak woodwork, hardwood floors, and a beamed ceiling.
–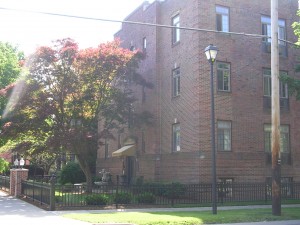 733 West Wayne Street, Apt. 310
Nathan and Samantha Smith – tenants
This Art Moderne/Colonial Revival-style apartment complex was built circa 1930 for the Van Buren-Wayne Real Estate Corporation. From the main façade, note that the left and right sections of the building are stepped slightly back from the central section. The stone-capped parapet is stepped up and has a subtle stone scroll detail flanking the tallest, central section. On the corners of the building both on the main and rear facades, brick quoins provide additional architectural interest. The main façade exhibits a variety of window details including stone lintels, brick lintels with stone keystone, and a central Palladian window ornamented with a brick arch with stone keystone. A stone pediment with stone corbels accentuates the main entrance.
The first resident of apartment 310 was Mrs. Edith Bailhe, who was a musician. Nathan and Samantha have lived here since 2004 and have painted and decorated the apartment to make it their own. They even refurbished the kitchen cabinets including removing many layers of paint from all the hardware. In 2005, Midtowne Realty, Inc. purchased this apartment building and renamed it Garrison Flats. Extensive work has been done to rehabilitate the property including the installation of fencing, lighting, and landscaping to provide for an inviting downtown living environment.
–

405 West Wayne Street
Trinity English Lutheran Church
(Please note that on Saturday, tours will stop at 3 p.m.)
Founded in 1846 by Henry Rudisill, Trinity English Lutheran Church was the first English-speaking Lutheran church in Fort Wayne. The current Gothic Revival church structure was designed by architect Bertram Grosvenor Goodhue in 1923. Interior details include Gothic arches and a vaulted ceiling constructed of Guastavino tile, sculpture by Lee Lawrie, and stone carvings by Edward Ardolino. There are stained glass windows by Goodhue's nephew, Harry Wright Goodhue, and wood carvings by Alois Lang, a master carver from Oberammergau, Bavaria. The church has an Aeolian-Skinner pipe organ having 4800 pipes.
A wing housing the chapel and classrooms was designed by A.M. Strauss and Associates and Oscar H. Murray, a consulting architect from New York, in 1956. A mural in the altar area was painted by Austin Purves, known for his mosaics, murals and frescoes in American churches and public buildings. The stained glass windows were done by the George Payne Studios of New Jersey.
–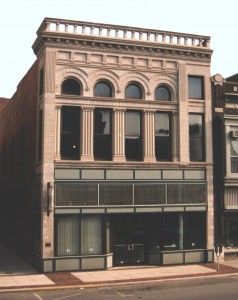 119 West Wayne Street (Louis Mohr Block)
Morrison Kattman Menze, Inc. – Architecture Planning and Interiors
Built in 1891 and individually listed on the National Register of Historic Places in 1988, this Richardsonian Romanesque-style, limestone clad commercial building was designed by local architect Frank B. Kendrick. The Neoclassical decorative elements include a balustrade parapet, a cornice embellished with dentils and modillions, and groups of colonettes separating the second floor windows. The round-arched attic windows have smooth voussoirs, or wedge-shaped masonry units. Having experienced a 1960s remodeling, the first floor façade underwent a restoration in the mid-1990s.
The building was commissioned by Louis Mohr who sold sewing machines and bicycles at this location until 1902. In 1925, Martin Ankenbruck bought the property and operated The Vogue clothing store for women. The rear seventy feet of the building was added in 1927. Over the years, the clothing store evolved into a gifts and greeting cards store, but closed in 1970. Jefferson House Interiors occupied the building until 1982. The architectural firm of Morrison Kattman Menze, Inc. was instrumental in rehabilitating the building and relocated its offices from the Landing to this location in 1995. In 2006, the firm added a white reflective roof to the building for added for energy efficiency. A stage used for Vogue fashion shows remains on the second floor along with a fur vault in the basement.
–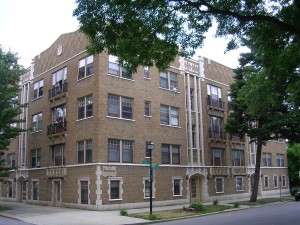 926 West Berry Street, Apt. AB2
Sonia Modaressi – tenant
Built in 1926, well-renowned architect Alvin M. Strauss designed this Tudor Revival apartment complex described at the time by the Journal-Gazette as "Fort Wayne's first real large apartment house on big city lines." Tudor elements include the brick and terra cotta parapet with crenelations and finials, tudor-arched entries, and decorative corner quoins. The influence of the Spanish Eclectic style can be seen in the shallow, glazed terra cotta and iron balconies of the upper floors. Strauss and his mother resided at Sheridan Court (it is suspected in this particular apartment, although apartment numbering changed at some point making it difficult to determine) for several years during which Strauss was involved in designing other notable Fort Wayne landmarks such as the Lincoln Bank Tower, Embassy Theatre, and the Indiana Hotel.
Resident Sonia Modaressi realized this apartment, Sheridan Court's largest at 1,222 square feet, would be her first choice in all of Fort Wayne when she first toured it. She has resided here since June of 2006. The elegant, light, and spacious apartment is home to both classic and contemporary styles. The flow and symmetry of each room feels more like a home rather than a second-floor apartment. Comprised of high ceilings, French doors, a wrought iron balcony, hardwood floors, and unique layout, this residence is full of eclectic charm and character.
–
West Central Arts Fest
918-922 West Berry Street
Back for the sixth year is a fine representation of West Central's gifted and creative talent. Please take time to browse each display and speak with the artisans as they demonstrate their crafts in oils, stained glass, watercolor, sculpture, beaded jewelry, mixed media, metal garden art, and photography. Along with regulars Diane Groenert, Corene Painter, Cindy Husar, Bob Pence, Laura Stewart, and sisters Paige Kagin and Stacy Reeves, welcome five new young artists to this year's Arts Fest. They are Alan Kitchen, Katie Deitle, Adam Meyer, Jonathan Frincke, and Max Meyer.
Be sure to have a seat and take in a sampling of our performing arts talent. On Saturday, enjoy poetry reading by The Margin writers and the sounds of the rock/funk band Seedy Kay featuring lead singer Chris Kellum. Sunday will feature Seedy Kay once again, classical violinist Jesse Hawkins, and the band All Nite Skate.
West Central neighbor Starbucks Coffee will be providing coffee for your enjoyment along with our ice cream vendor offering a tasty selection of cool treats. So, plan to take a break and stop to enjoy another facet of what makes the West Central Neighborhood so special!