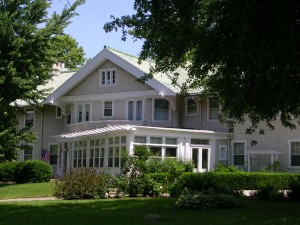 1415 West Washington Boulevard
Fred and Karen Allina
Celebrating its 100-year anniversary, Toledo, Ohio architect Harry Wachter designed this Craftsman style home. It was built for Robert Millard, partner in Moellering & Millard Wholesale Grocers and involved in the Fort Wayne Rolling Mill. From 1923 to 1925, the house was occupied by Bishop Alerding, and by Bishop John Francis Noll from 1925 to 1956.
At nearly 9,000 square feet in size, the house was originally designed and oriented to take in the view of the landscaped entrance to Swinney Park, which has since disappeared due to the very busy nature of West Washington Boulevard. Architecturally, the house has a rough, stucco exterior and clay tile roof. The enclosed porch with exposed rafters was originally an open pergola. Inside, the Colonial style prevails. The living room includes a massive tiled fireplace, and original plaster ceiling moldings, and two sets of leaded-glass French doors open to the side yard. Many, many other decorative elements punctuate the interior design throughout including a recently renovated master bath with heated floors and bedroom with marble fireplace. In 1935, a chapel designed by architect Alvin M. Strauss, who was also instrumental in designing Fort Wayne landmarks such as the Lincoln Bank Tower and the Embassy Theatre, was added to the house. An intricate ceiling, marble work, stained glass, original cherry wood pews, original light fixtures, and hand-painted murals are found in this fully restored structure.
The yard is beautifully landscaped using traditional plantings such as boxwood, hydrangeas, rhododendrons, azaleas, iris, ferns, peonies, and lilies. Tall blue spruce, pines, redbuds, maples, hedges, and a ginko tree add structure to the yard. The Allinas and their three daughters have lovingly restored this home over the past twenty years, and sincerely hope you enjoy seeing what they have accomplished.
–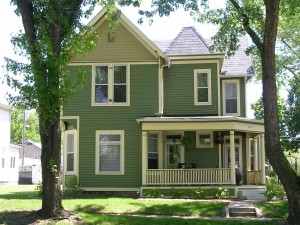 1333 West Washington Boulevard (garden only)
Steve Gustafson and Laura Paschen
"Gus" and Laura moved into this home only a few years ago, but set to work right away on creating the garden. Now in its third year, it is constantly evolving. The focal point is a three-tiered fountain under a Boston ivy-covered, iron gazebo. Multiple planting beds surround the perimeter and include daisies, purple coneflowers, daylilies and Knock Out roses. Two raised beds display a variety of hostas, hydrangeas, and coral bells. In the rear corner of the yard, a secluded patio constructed of 100-year old paving bricks is surrounded by arborvitaes. A pergola, covered by flowering wisteria, is nestled in a sea of ornamental grasses, and butterflies and humming birds, attracted by the honeysuckle and butterfly bushes, are daily visitors. Gus has named the garden "Green Heaven."
Although not open for touring, the home was built circa 1892 for Captain Vill Roy Davis and his family. Its cross-gabled plan with integrated square tower is a typical subtype of the Queen Anne shape. The northern and western gable ends feature scalloped siding and scrolled brackets, and matching scrolled brackets frame the northeastern beveled window. A one-story bay window accents the western side. The porch exhibits the Free Classic Queen Anne subtype with its square balusters and smooth, round columns.
–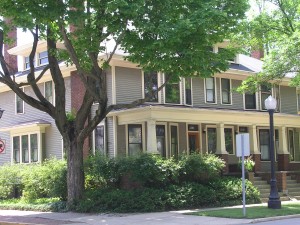 1301 West Jefferson Boulevard (house and garden)
Tom Cain
This double foursquare home and its sister to the west were built by the Sauterteig family about 1913 and features Arts and Crafts and Classical details. Having been divided into two apartments in the 1950's, owner Tom Cain restored the east townhome in 1989 and has been renovating and restoring other features in the remaining two apartments and the sister house. Since his home was on tour in 2000, Tom has made recent upgrades in the kitchen to include new appliances, new countertops, and a granite island. He also has redecorated the interior and refined his art and antiques collections. Browse and enjoy Tom's antique furniture, regional art, handwoven rugs, and Asian pottery assembled over more than 30 years.
Reflecting Tom's vocation as a landscape architect, the property now features classic English inspired gardens filled with perennial flowers, roses, rhododendrons and rare plants. Note the treatment of the gardens as rooms, each with differing character. Parts of the garden date to the early 1980's, but it was substantially enlarged and renovated in 2001. Plants have grown in considerably since their last West Central tour appearance.
Tom's efforts were featured in the nationally-distributed Old-House Journal magazine in 2007 and the local Fort Wayne magazine.
–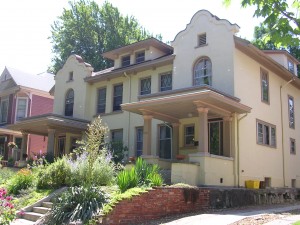 1229 West Berry Street (duplex)
Andy Welfle and Katie Pruitt – tenants
Rather an uncommon style of home for Fort Wayne, Indiana, this Mission-style duplex contributes to the architectural variety of the West Central neighborhood. The Mission style started in California in the 1890s, but never became widely popular outside the southwestern United States. Identifying features of the style seen in this home is the smooth stucco exterior, the curve-shaped parapets, wide overhanging eaves, and porches supported by square columns. Other accents include single Palladian windows over the porch roofs, modillions under the front eaves, and a soft color scheme of cream, tan, and pink.
Here, the front yard has been turned into garden space featuring sun-loving plants such as yucca, Russian sage and coneflowers. There are also daylilies, iris, and bee balm.
Research suggests that this duplex was built circa 1910 for Theodore Thieme, although he never lived here. Thieme was best known in Fort Wayne for opening Wayne Knitting Mills in 1891 which was the first factory for the production of hosiery in the United States. In 1920, Fred and Mary Vance and their children Helen and Fred lived at 1229 W. Berry Street while John and Jane Ewing lived in the east duplex at 1227 W. Berry Street.
–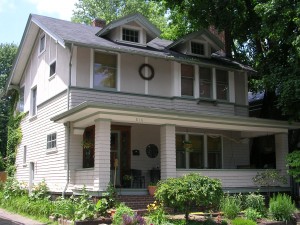 816 Rockhill Street
Becky Johnson and Jake Patten
The uncle and nephew architectural firm of Mahurin & Mahurin designed this Craftsman- style house. Built circa 1910 for Michigan native James Shields, it features a shingle-sided first story and a stuccoed second story with a half-timbering detail. Two front dormers with multi-paned windows accent the attic story, and the welcoming main entrance is highlighted by an oak door and leaded glass sidelights. Other leaded glass windows are found throughout the home.
Inside the home, Becky and Jake have utilized a variety of artistic works to enliven their inviting living space. Regrettably, their front garden was damaged in late June when part of the large, 100-year old tree that used to be on the front of the property fell on it. Becky is proud to say that she has a sister and two brothers who are also West Central residents.
James Shields came to Fort Wayne in about 1894 and married Mary Fitzpatrick in 1909. They had at least two children: Mary and Louise. When first living at 816 Rockhill Street, James owned Shields Clothing Company on Calhoun Street which sold clothing, hats, caps, and men's furnishings. Later, James was secretary of the City Water Works under Mayor William Hosey and supervised the operations of the newly constructed water filtration plant in 1933. Daughter Mary was married to Hans Schwieger who was the founder and first conductor of the Fort Wayne Philharmonic Orchestra. James died in 1954 at age eighty-three.
–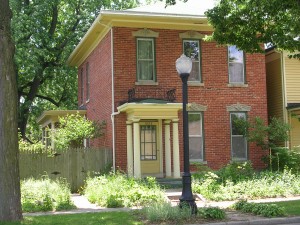 1023 West Jefferson Boulevard
John and Cindy Husar
This brick Italianate home was built circa 1867. Characteristic elements of the style include the low-pitched, hipped roof and decorative stone lintels over the windows on the main façade. A simple front entry porch is supported by four, round columns and a larger, side-entry porch enhances the eastern garden. The home appears to have first been owned by Peter Wirsche who worked as a watchman for the Pittsburgh, Fort Wayne and Chicago Railroad.
John and Cindy have done much work to restore their historic home. Once painted white, the brick exterior was stripped to reveal its original beauty, and both porches were reconstructed as earlier versions had suffered from decay and neglect by previous owners. Inside, the home is decorated in a style which might best be described as "Grandma Chic." Family pieces, repurposed piano parts, and antique store finds blend with rich colors and artful touches to create a very eclectic space.
The garden was nearly nonexistent when the Husars purchased this longtime rental property and made it their home. The garden formerly contained roses, peonies, campanula, forsythia, and rose of Sharon. Evoking a creative and unique flavor, the garden now displays a wide variety of perennials, annuals and herbs. The beds are bordered by brick and stone from former homes in the neighborhood and from Cindy's family farm. Also featured in the garden are pieces of hand made pottery, sculpture and stone structures. Welcome to this eclectic and comfortable backyard garden.
–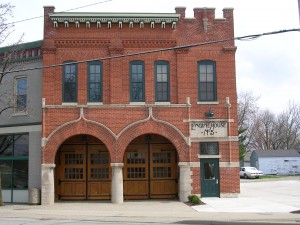 1405 Broadway – Old Engine House No. 5
Firefighter's Local 124
Old Engine House No. 5 opened in 1893 to horse-drawn fire apparatus. While on duty, early firefighters spent twenty-nine straight days in this small brick building. It served the city of Fort Wayne as an active engine house until 1959, and was designated as a Local Historic District in 1987.
Designed by the architectural firm of Wing & Mahurin, this Queen Anne/Romanesque fire house was built in 1893. Architectural details include two arched stall openings constructed of brick and outlined in stone, flattened brick segmental arches above the windows, and a cornice ornamented with dentils and modillions.
Fort Wayne Professional Firefighter's Union Local 124 purchased the historic structure in 2004 and extensively rehabilitated it for use as a meeting facility. Take note of the gorgeous stripped and refinished stall doors and the warm, exposed brick interior walls. Their purpose was to "build our future and preserve our past," which quickly became the anthem to bring this treasure back to life….back to the men and women of fire service and to once again being a piece of fabric that is woven within our community.
The Local 124 is an active participant in the West Central Neighborhood Association and partners with Wellspring Interfaith Social Services and Emmanuel-St. Michael Lutheran School on neighborhood social issues.
–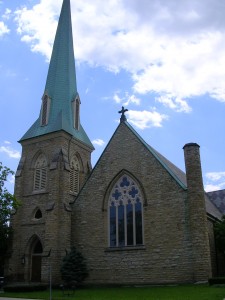 611 West Berry Street
Trinity Episcopal Church
Trinity Episcopal Church was designed in 1865 by another Toledo, Ohio architect named Charles Crosby Miller (Miller designed almost every major commercial building in Toledo). Constructed of rusticated stone, the Gothic Revival style of the church is reflected in the pointed arch windows, entrances, and other openings, and the use of tracery (curvilinear shapes) as embellishment. The buttresses of the main church and square belltower are accented with limestone details. Inside, the sanctuary features four pointed arches constructed of oak and detailed with trefoils. Also present are many historic fixtures from the 19th-century as well as several original stained glass windows. In 1956, the parish house and Christ the King Chapel were added to provide additional classroom and meeting space for the growing congregation. Trinity Episcopal Church was individually listed in the National Register of Historic Places in 1978.
In May of 1839, seventeen charter members of the Protestant Episcopal Assembly met in Fort Wayne, and Trinity Episcopal Church was started in 1844 by Peter P. Bailey. The first church structure was built on the northwest corner of Berry and Harrison Streets in 1847 (present-day site of the Metro building). Early church members included Episcopalian settlers to Fort Wayne from the New England area; English, Irish, and Canadian immigrants who had a tradition of Anglican worship, and newcomers to the faith.
(Historical information provided by Trinity Episcopal Church and the National Register of Historic Places)
* Please note that Sunday hours for the church are 11:30am to 5:00pm.
–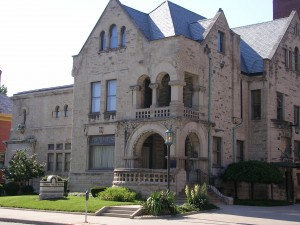 420 West Wayne Street
Klaehn, Fahl & Melton Funeral Home
This Richardsonian Romanesque style house was designed by Wing & Mahurin in 1893 for Robert Bell, an attorney and state senator. Contrasting smooth and rock-faced stone masonry on the exterior creates a striking effect. Other features include an open loggia above an entry porch with large Syrian arches. On the west side of the house is a matching addition designed by architect A.M. Strauss in 1935. While in existence as a residence, the house boasted seven bedrooms, card room, billiard room, formal ballroom, and library. Outstanding hand-carved and imported hardwoods compliment the interior design.
Established in 1876 as Robert Klaehn & Sons, Klaehn, Fahl & Melton is the oldest funeral provider in Fort Wayne. The Klaehn family bought the residence in 1926 and converted it for use as a funeral home. Today, it serves as the company's central location for funeral, cemetery and cremation services.
During the tour, antique funeral memorabilia and vintage professional automobiles will be on display.
–
West Central Arts Fest
1023 West Jefferson Boulevard (rear garden)
While on the West Central House and Garden tour, be sure to stop by the Arts Fest. This is a wonderful opportunity to meet some of the many visual and performing artists who live or work in our eclectic neighborhood. New to our seventh annual Arts Fest is jewelry maker Marissa Jones and knitter Dawn Pursel, creator of both fabulous afghans and wearable art. Returning favorites are Diane Groenert with her painted house portraits; Cindy Husar, pottery; Corene Painter from Home Grown Bead and Candle shop; award-winning photographer Robert Pence, and our favorite resident twins, Stacy Reeves and Paige Kagin, return with jewelry and other crafts. The Arts Fest will also be featuring some wonderful bands such as Seedy K, Tug Boat Jack, and The Possum Trot Orchestra. A few surprise bands will be announced on tour days.
So, drop into the West Central Arts Fest to shop, listen to, and meet some of the great artists who call West Central home!