The campus of Fort Wayne College once occupied an area where this home now stands. Built circa 1910, the house is considered to be American Foursquare in housing type due to its hipped roof, front entry, and box-like appearance from the street. It also features identical dormers, each with two, multi-paned windows, on all four sides of the roof. As the American Foursquare house is a sub-type of the Prairie style (see 816 Nelson Street), there is an emphasis placed on horizontal lines seen on this house in the broad rooflines of the dormers, main house, and full-width front porch. Some Colonial Revival details, such as the shutters and round porch columns, are also evident here. Note the elegant main entrance flanked by leaded glass side-lights and topped with a leaded glass transom. The grounds are extensively landscaped and feature a small, backyard pool. Inside, a variety of living spaces provide character and interest.
The home was built for Walter and Florence Leonard who had at least two children: Thomas and Betty. An Ohio native, Walter practiced dentistry for 40 years and had his office at 1001 ½ Broadway (now demolished). He died at age 60 in 1941. Florence, a native of Sweetser, Indiana who moved to Fort Wayne in 1908, died in 1974.
–
An unusual design for the neighborhood, this home was originally built as a duplex circa 1916. Constructed of brown brick with stone windowsills, it exhibits two different architectural styles. Colonial Revival details include: the prominent, two-story solarium on the front façade with tall, multi-paned windows on all three sides; a fanlight window accenting the red-painted gable; and on the south side of the house, a two-story bay window. Prairie style details are evident in the wide, overhanging eaves and bands of windows that visually place an emphasis on horizontal lines.
Residents of the house in the late 1920s included William and Lottie Lewis and William and Josephine Rohan. Mr. Lewis was a salesman for A.H. Perfect, a wholesale grocer (the A.H. Perfect house is located at 1210 W. Wayne Street). Mr. Rohan was the president of William H. Rohan and Company, a bonds and investments business.
–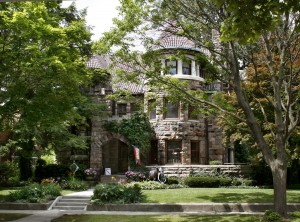 1202 West Wayne Street
Castle Gallery
The local architectural firm of Wing & Mahurin designed this Richardsonian Romanesque house in 1905. The house exhibits massive stone construction, a prominent round tower, and crenelated parapet. The open front terrace originally was covered by a tile roof that matched that of the house.
The home's first owner, B. Paul Mossman, was born in Coesse, Indiana in 1870 and came to Fort Wayne in 1879. He became associated with the Mossman-Yarnelle Company of Fort Wayne, wholesalers of heavy hardware. He also was involved with the Chamber of Commerce, the local American Red Cross, and the Fort Wayne Country Club.
Donated by Mossman to the City of Fort Wayne in 1949, the house served as quarters for Fort Wayne's art museum until moving to its current Main Street location in 1983. Three apartments occupied the house from 1983 to 1995. The current owners have done a great amount of restoration on the house which is now a single-family residence and home to the Castle Gallery. They recently reconstructed the original staircase to the third floor area.
–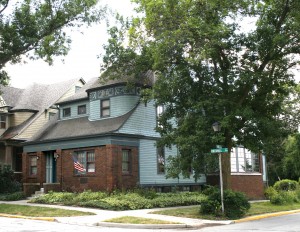 704 Rockhill Street
Carole Lombard House
Built circa 1905, the most prominent architectural detail of this house is its continuous wood-shingled wall and roof cladding. Because of this, it is an example of the Shingle style which was popular in America from about 1880 to 1900, and most commonly seen along the eastern seaboard. The house also features a characteristic complex shape and steeply pitched roofline. Also note the low-relief carving on the upper portion of the turret.
Actress Carole Lombard was born in this house in 1908 as Jane Alice Peters to parents Frederick and Elizabeth. A popular American movie star in the 1930s, Carole died in a plane crash in 1942 while promoting war bonds. Carole's grandparents, Mary and John C. Peters, lived nearby at 832 West Wayne Street.
–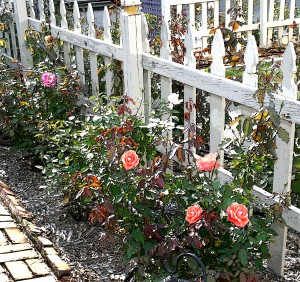 835 West Wayne Street
Rose Garden
This colorful, cross-gabled Queen Anne-style house was built circa 1885. The decorative details are many including gable ends embellished with fish-scale shingles, sunburst-like vergeboards, and a band of dentil molding. The northeast corner of the house has cut-away windows with a pendant feature over that of the second story, and ornamental brackets lend interest to the eaves and other structures. The wide, main porch, supported by single square columns, features a simple balustrade of individual square balusters. Another balustrade of the same design tops the porch roof. A square bay window, featuring a cornice accented with small modillions, and a small side porch provide additional character to the west side of the house.
This house is associated with William H. Watt who likely was the first owner and lived here until about 1895. He was a commercial broker and then was a partner in a wholesale grocer business. His company, McDonald and Watt, went bankrupt in 1896.
–
Built in 1887 for Ronald T. McDonald, this Queen Anne-style house is a rare example of a surviving wood-framed house designed by the regionally well-known architectural firm of Wing & Mahurin. The house has a complex floor plan, hipped roof with a variety of cross gables, decorative moldings, wood siding and wood shingles. Additional features include angled and oriel bay windows, side porch, and an elaborately detailed chimney. A small corner dormer, with two sets of paired, multi-paned windows, adds visual interest to the roofline.
McDonald was an electrical lighting pioneer who founded Jenney Electric in Fort Wayne, which later became the present-day GE facility on Broadway. Myron Dessauer, partner in the local Wolf & Dessauer Department Store, later owned the house.
–
This brick house was built c.1891 and is an outstanding example of the Queen Anne style. Design details on this house include turrets, adorned with finials, positioned on the east and west sides (note that one is square and one is round), stone lintels with dentil feature above many of the windows, and two, centrally-located Palladian windows capped with a stone crown with rosette ornament. The second-story and turrets are decorated with an elongated dentilled cornice painted to enhance the architectural detail.
Samuel and Flora Fisher, along with their son Roger, lived at 827 West Wayne Street from between about 1893 to 1908. Born in Indiana in 1859, Samuel was part owner of Fisher Brothers, a local wholesale paper company. He also served on the Board of Directors of the First National Bank in Fort Wayne.
–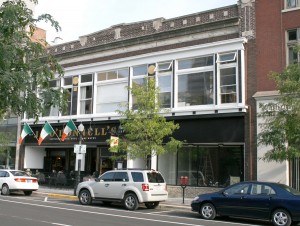 123 West Wayne Street (2nd floor apartment)
In 1922, local pharmacist Julia Emanuel and physician L. Park Drayer purchased this property and commissioned the construction of the Drayer-Emanuel Building. Spanning addresses between 121 and 125 West Wayne Street, "Miss Emanuel's Chemist Shop" was established at 123 West Wayne Street, and Sharp Brothers Hardware operated at 125 West Wayne Street.
Miss Emanuel was born in 1871 in Ohio, and was the only woman to graduate from the University of Michigan School of Pharmacy in 1889. She worked for Meyer Brothers drugstore for ten years before opening her own pharmacy 1902 becoming Fort Wayne's first woman pharmacist. She worked until 1942, and died at age 91 in 1962. In 1965, at her bequest, a scholarship was established in her name for University of Michigan graduate students. Dr. L. Park Drayer was a well-known physician in town whose home and office was at 301 West Berry Street.
The Drayer-Emanuel Building has seen recent renovations including storefront changes and interior alterations to accommodate the current first floor commercial spaces and new residential and work spaces on the second floor. The broad, main façade features a slightly stepped-up brick parapet topped with stone and punctuated with square stone accents. A narrow, segmented stone cornice tops a narrow, stone course embellished with a series of protruding stone circles. Three sets of Chicago-style like windows (three-part windows consisting of a large fixed center panel flanked by two smaller double-hung sash windows) comprise the second story façade.
–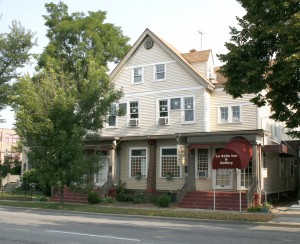 517 West Washington Boulevard
LaSalle Bed & Breakfast
Carpenter and home-builder Tom Snook originally built this cross-gabled, side-by-side duplex for him and his family in 1901. Exhibiting two small front porches, and a variety of bays, windows, and dormers, it is Queen Anne/Free Classical in style, but with some Colonial Revival features. Inside, there are forty rooms, including the basement. The third floor was originally intended for servants, and was only reached by a dedicated stairway that had no access to the family's private, second-floor quarters. Although built with overall symmetry, there are small differences between the two sides as Mr. Snook designed the details as he went often using materials left over from other jobs he had worked on. In 1930, in order to make space for a new commercial building, the duplex was cut into sections and moved around the block. Mr. Snook continued to live here until his death in 1934.
In later years, the duplex was subdivided into apartments, but current owners Clark and Rose-Aimée Butler, who bought the property in 1990, have been working on restoring the home while adding modern amenities. For a while, Rose-Aimée operated a dance school on the third floor, and in 2004, the Butlers turned the entire complex into the La Salle Bed & Breakfast naming it for René Robert Cavelier, Sieur de La Salle (1643-1687) who was the first European to set foot in what is today the city of Fort Wayne.
(Historical information taken from the La Salle Bed & Breakfast website)
–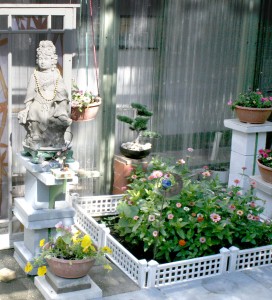 519 West Washington Boulevard (garden)
The gable-front Dillon/Keegan House, built in 1865, has been remodeled several times throughout its history. Originally a one-and-a-half story structure built for carpenter James C. Dillon and wife Anna, sisters Mary Crall and Abigail Keegan turned it into a two story residence in late 1914 with upper and lower apartments. Current owner Dr. Kirby returned it to a single family home. The main façade has an enclosed porch and a three-sided bay window, and a private courtyard is located between the house, garage, and solid walls at the sides of the rear yard.
The gable-front house gained popularity in the United States around 1825 when urban land became more valuable, and city lots became smaller and narrower. This house type allowed the largest house possible to be built on these small lots.
James Dillon bought the land for this house from Patrick H. Keegan, an engineer with the Pennsylvania Company who lived nearby at 509 W. Washington Boulevard. The Dillon family occupied the home until 1889 when it was sold back to Patrick Keegan who then rented it out for residential and commercial use. For instance, in 1901, Mae Sheridan moved her dress shop here. Keegan daughters Mary and Abigail lived here beginning in the early 1920s. Between 1959 and 1970, the lower apartment was used as the dental office for Dr. Everett Stewart.
(Historical information provided by Dillon/Keegan House: Its House and Inhabitants by Jack Randolph Kirby, PhD)
–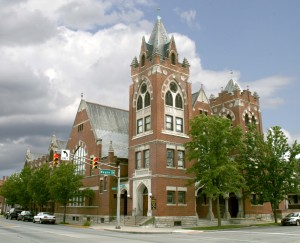 910 Broadway
Broadway Christian Church
In 1849, the growing Methodist membership in Fort Wayne was split into two congregations: one east of Harrison Street and one west of Harrison Street. The congregation to the west built Broadway Christian church, then called Wayne Street Methodist Episcopal Church, in 1871. It was their second permanent church on this same site. The current church was remodeled and enlarged in 1896. In 1968, the two congregations reunited, and moved to a new church building, First Wayne Street United Methodist Church, in 1972.
Broadway Christian Church is a Gothic Revival structure characterized by the many tall, pointed arch windows and entrances used throughout the building. Other Gothic Revival features displayed here include curvilinear openwork shapes, known as tracery, that define the larger stained glass windows; the tall corner towers, and the three (trefoil) and four (quatrefoil) lobed cloverleaf detail implemented in a variety of ways to add additional surface texture. The exterior is further embellished by stone bands and creative combinations of brick and stone. The West Wayne Street side of the church is graced by a triple arched, stone arcade.
(Historical information taken from the First Wayne Street United Methodist Church website)
–
The recent restoration of this Queen Anne-style home has helped to enhance this block of West Jefferson Boulevard. The previous owner worked extensively to return lost architectural details. The asphalt shingle-type siding was removed and the wood clapboards were repaired, missing trim pieces were replaced, and the square tower received a new copper finial (replicated from the original). A new full-width front porch, supported by single, round columns, was constructed to closely match the original. Interestingly, the square balusters are a mix of those salvaged from another West Central home and new ones made to match. Also, the windows of the home were cleaned and repaired. New features to the home include a rear deck and garage with barn door.
Other architectural details include a front gable embellished with fish-scale shingles and a sunburst-like vergeboard, leaded glass transom over the front door as well as in the window to the left of the door, and a bay window on the home's west side.
The home appears to have been built circa 1899 for John and Barbara Sauerteig who lived here with their sons Otto and Herbert until 1913 (when they moved down the street and built 1301 W. Jefferson Boulevard). A native of Germany, John immigrated to the United States in 1885 and moved to Fort Wayne in 1897. Here, he bought the Brenzinger Bakery (located on W. Washington Boulevard) and operated it as the Old Vienna Steam Bakery. He died at age 71 in 1929.
–
Located at the end of an historic brick street, this charming, gable-front home overlooking Moody Park was rescued from the brink of demolition by the West Central Neighborhood Association (WCNA). Through the assistance of the Indiana Association for Community Economic Development (IACED) and the City of Fort Wayne, the WCNA financed the renovation of this home using a combination of federal funds and loans from Tower Bank and Historic Landmarks Foundation of Indiana. It is for sale to a low-to-moderate income buyer who will be an owner-occupant.
Having suffered years of neglect, much work went into this home to return it to a livable condition once again. The overall project included the removal of asphalt shingle siding and restoration of the wooden clapboards below, addition of two dormers to increase headroom in the second story, first floor laundry facilities, new kitchen and half-bath, and the creation of a modern interior layout to include a full bath on the second floor. The house features new and refurbished windows, and new mechanical systems including heating and air-conditioning, plumbing, and electrical. The large lot allows for plenty of off-street parking space and room for a garage.
Built circa 1870, an early resident was Ohio native William Brandenburg who lived here in 1880 with his wife Mary and their two children. William was a confectioner with a shop on the west side of Broadway just north of Wilt Street.