ROB STRAW OF ELKHART WINS KNEEDACHEF RAFFLE
Congratulations to Rob Straw of Elkhart, the winner of the Chef Eric KneedaChef raffle! Tickets for the Chef Eric KneedaChef raffle were sold during the Home and Garden Tour.  Rob is the lucky winner of a 7-course gourmet dinner for 4 in the winner's home and it includes all food, prep, and cleanup. Chef Eric donates the proceeds from the raffle to the West Central Neighborhood Association. We very much appreciate Chef Eric's support! For more information about Chef Eric and his KneedaChef services, visit www.kneedachef.com or call 260-425-0660.
PAIGE KAGIN WINS HAND-CRAFTED QUILT
Congratulations to Paige Kagin of Fort Wayne, the winner of a beautiful hand-crafted quilt!  The quilt was donated by the Albion Quilt Club. Paige is known for her jewelry along with twin sister Stacy Reeves as "Jewelry by the Twins".  Paige has been a part of the ArtFest since 2003.  Paige and Stacy lived in West Central from 2002 to 2009.     Paige is second from the left in the below photo. Also pictured are Cheryl Dunn, Joanne Bruce and Chris Ruckman.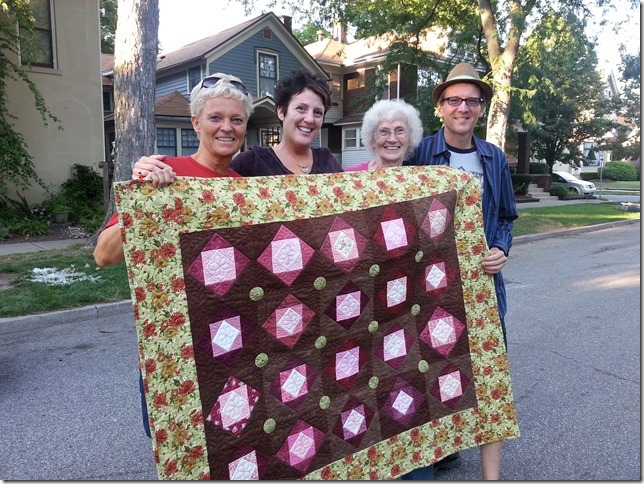 The quilt was raffled to support Andrea Dunn's mission trip to 11 different countries over 11 months. Andrea is the granddaughter of Joanne Bruce, long-time resident, member, volunteer, and supporter of West Central. For additional information about Andrea's trip, please visit Andrea's blog at http://andreadunn.theworldrace.org/.