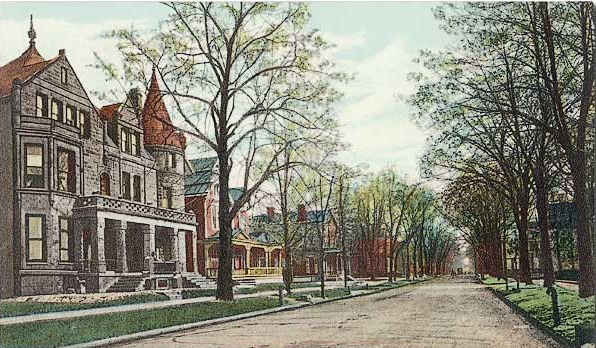 September 7 & 8 – West Central Home  & Garden Tour
Click here for the 2019
Tour
Brochure
Welcome to Historic West Central
The West Central Neighborhood of Fort Wayne, IN, encompasses all of downtown west of Calhoun Street, but the heart of West Central is its residential area, the development of which began as early as the 1830s.
Because of the historic and architectural significance of this area, the West Central Neighborhood was listed on the National Register of Historic Places in 1984 and was designated as a Local Historic District as early as 1985.  The West Central Neighborhood was named the "Best Old House Neighborhood" in Indiana in 2010 by "This Old House Magazine."
The north side of the Neighborhood, along Berry and Wayne streets and Washington Boulevard, was where many of the City's most prominent families built large, stylish homes.  On the south side, situated between West Jefferson Boulevard and the former Pennsylvania Railroad tracks, exists a collection of modest, small-scale cottages arranged along narrow, tree-lined, brick streets. Many workers for the businesses and various industries stretching along the south side of the tracks resided in this area.
Beginnings
The West Central Neighborhood Association was established in 1969 as a general neighborhood association and is now a formal 501(c)(3) non-profit organization.   West Central's non-profit status enables the Association to accept charitable contributions and to apply for appropriate grants, increasing its ability to solve neighborhood problems and promote improvements and social welfare in the neighborhood.
Mission
The mission of the West Central Neighborhood Association is to enhance the environment of the West Central neighborhood by improving the quality of urban life for its residents, business owners, and visitors. It is committed to the preservation of diverse neighborhood assets as well as economic and partnership development.
Vision
The vision of the West Central Neighborhood Association is to create a friendly environment that is rich in history, culture, diversity, and community and that is valued by its residents, business owners, and visitors.
For detailed information, read our by-laws.
Contact
West Central Neighborhood Association
PO Box 13151
Fort Wayne, IN 46867
(260) 385-WEST (9378)
info@westcentralneighborhood.org